What is SMART?
When refurbishing PCs, Refurbishers need to first wipe the original operating system and re-install a legitimate Microsoft Windows License.
SMART creates a frictionless online experience for Refurbishers to manage and deploy digital Microsoft Windows licenses, without the need for on-premise hardware or lengthy technical setup. By the time you finish reading this article, you will be able to inject legitimate Microsoft Office Licenses sourced through a Microsoft Authorized Refurbisher.
The signup process consists of three steps: 1 Subscription & Onboarding, 2 Purchasing Keys, and 3 Injecting. To sign up to SMART immediately, you can visit smartdpk.com/getstarted
1. Subscription & Onboarding
To get started, you will first need to purchase a SMART subscription.
Visit https://smartdpk.com/pricing and click "Get Started" on the plan that you want.
You will need to enter your company details and, if selecting a plan other than Pay As You Go, your payment details.
Once you have checked your details click "Sign Up Now".
You will then receive an email that gives you login credentials to the app dashboard and a license file.
"What is the license.txt file for?"
This file must be present when running the SMART client to validate your user account and inject/activate keys. Without this, the SMART client will give the following error when loading: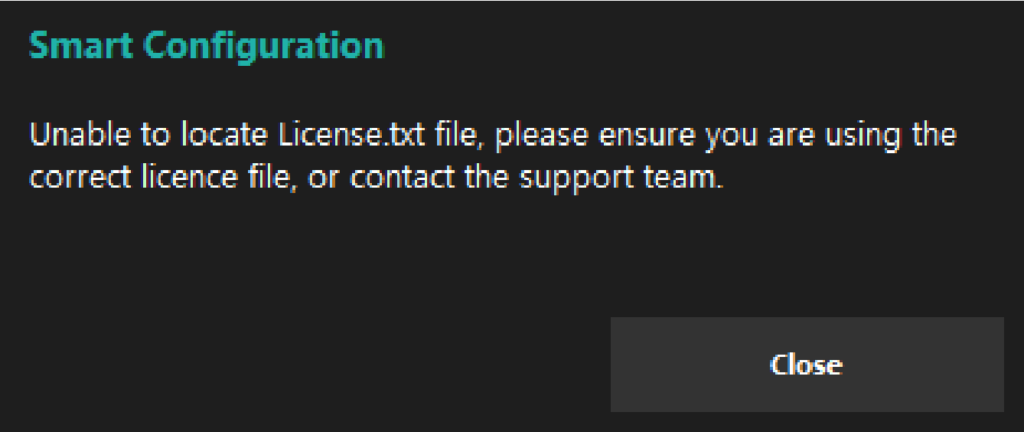 "How do I become a Microsoft Third Party Refurbisher?"
By signing up to SMART, you sell devices with SMART Microsoft licenses as an official Microsoft Third Party Refurbisher. When you sign up to SMART, you accept the necessary terms and conditions to be a Third Party Refurbisher.
Unlike traditional MARs, there are no signup forms and long waits. You can buy and use Microsoft approved licenses straight away.
You are now ready to buy keys
2. Purchasing Keys
You will need to have an active subscription and be logged in to the SMART Web to continue.
Visit https://smartdpk.com/ and click "Keys" in the top navigation menu.
Here you will find details on all keys available to you and pricing.
Select a key version, enter the quantity you require and click "Add To Basket".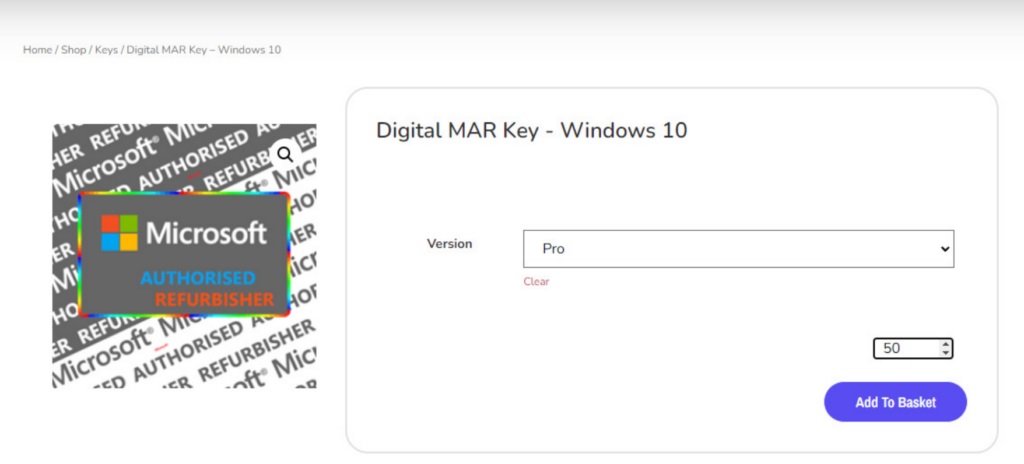 "Where's my discount?"
Discounts are applied in the basket, you will not see this on the product page.
If you are concerned that the price you are seeing is wrong, please contact us.
You are now ready to inject a key
3. Injecting
You will need an active subscription and have keys in your account to continue.
https://app.smartdpk.com/client
Head to the "Client" tab in the top navigation menu.
Download the latest version of the app and place it on a USB stick or a network location along with the license.txt file you were sent in your welcome email.
Boot up the machine that requires a digital product key. Insert your USB stick.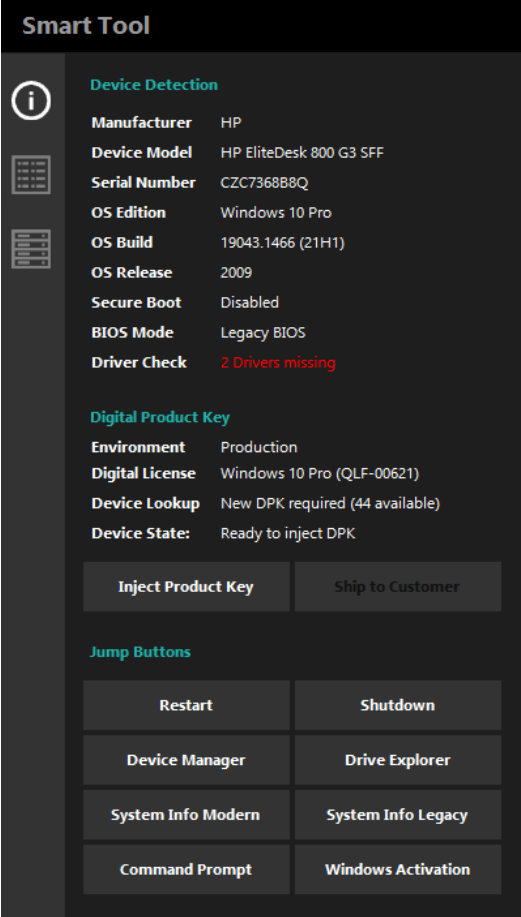 ← This is what the SMART executable will look like on initial launch. As you can see there are 2 drivers missing. By default and as per the MAR agreement you must install any missing drivers before a key can be injected. (See Settings on page 5 for more information),
Once you have installed all drivers you can click "Inject Product Key".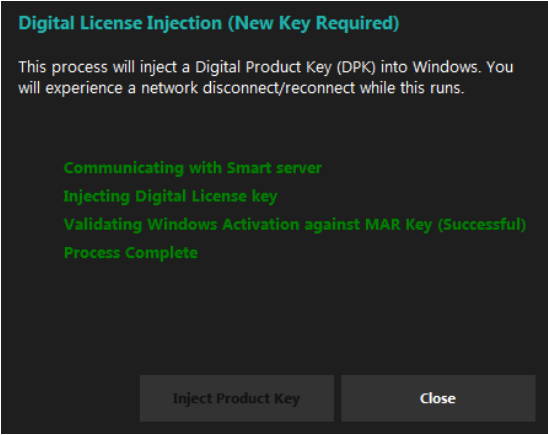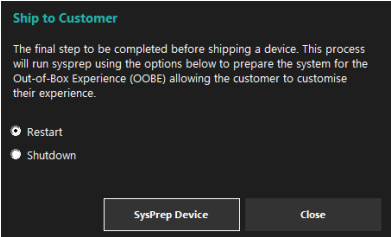 ← You can then close this window.
Select "Ship to Customer" – This will provide your end user with the OOBE (Out Of Box Experience) when the computer is next booted.

You have now injected a key
You are now signed up to SMART. You can inject keys, and easily buy more in less than a minute when you run low. If you need to change your settings, take a look at our guide to changing your SMART settings.
Help & Support
If you need help with anything, please send an email to [email protected] with your enquiry and we will endeavour to get back to you as soon as possible.